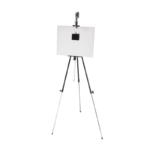 The best way to support your art.
FOME offers a wide range of masters, all MADE IN ITALY since 1971.
"MASTER" Through a play of glass and mirrors it reflects the image of the detail that you want to reproduce on the sheet/ canvas.

It thus makes it possible to execute the contours of the image in a very simple way, obtaining a perfect design in proportions and symmetries.

This article is perfect for beginners, as it helps to learn the techniques of drawing.